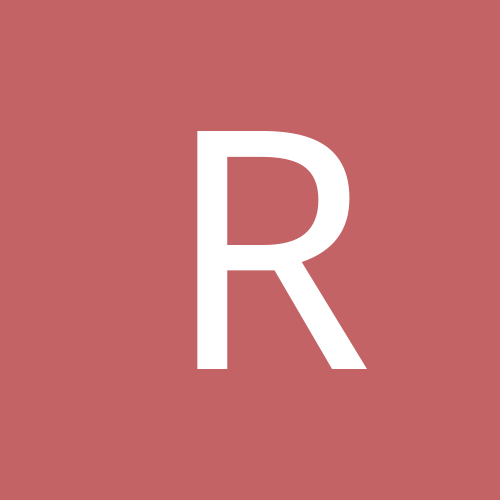 Content count

434

Joined

Last visited
Everything posted by r33_gts
Price : $800 Condition : Used Super Advan Racing Wheels - quailty light Japanese forged wheels. Fronts - 18 x8.5" + 42 offset Rear - 18 x9.5" + 38 offset All wheels are in great condition and will come with the following; - Centre caps - 16 Wheel nuts to suit (will need your own locknuts) - 2x Tyres Tyres are 235/40/r18 with RWC tread and 265/35/R18 Nexen 3000 with 90% but has a small egg in sidewall, would therefore recommend replacing. Pickup available from South Melbourne or Wheelers Hill.

Never understood why these things seem so expensive? Anyway after some new plates. If anyone can point me in the right direction over the net or store in Melbourne. Cheers.

Not really, theres plenty of Euro cars around that cost big $$$ and their owners are happy to fork out $700 for Euro plates. Jap import owners are generally tightarses Vicroads wouldn't generate enough profit from them to make it worth it.

They have a list of cars that need to come in for a check prior to registering, not sure about a 180 but I doubt that would be on the list. As long as you have rego usually you just book an appointment to come in trade plates, pay transfer & rego fees, show proof of ownership and your away. If it has to be inspected they are usually just done to confirm VIN & engine numbers.

Will be hard pressed to find junkies/bums who hang around the streets/shopping centres in Wheelers Hill. Not that kind of area. Most likely some losers from Noble Park/Springvale/Dandy making the trip there.

WTF is it with Civics and those 70's style roof cargo racks? and does everyone in the US where those ghey flat brim hats? Other than that cars looked hot

Decent Melb resturants to try out... Stokehouse - St Kilda Vue De Monde - CBD Nobe - Crown Flower Drum - CBD

Well Grand Final day is just around the corner and the kegs have been ordered but this year I want a beer wench! So does anyone know where in Melbourne or any websites to locate these girls?

I got a humming noise from the speakers and high pitch noise from the tweeter which gets louder as the car accelerates It only seems to affect the front speakers (Channel 3/4) the sub bridged to Channel 1/2 doesnt seem to be affected. I tried swapping the RCA around and it still makes the same noise. I tried running the remote wire directly of the +ve wire and it still made the noise too.... Any suggestions as to what it could be i know its in the wiring but i'm kind of stumped as to where? I tried switching earth location for the amp and that didnt change much either....

How is it dirty dogs? I can understand calling them pigs if you get defected for something stupid like that guy and his tyre placard lol. But drink driving is actually stupid and dangerous and I'm happy to think that police are cracking down on it more. Listen here Noob, Cracking on Drink Driving is just another way to saying "Lets f**k the Import Drivers" WHen I use to drive my 33... Everytime I drive threw a Boose bus they would ask me to pull over just after I been tested.. Make me wait for a few mins Untill a TMU officer comes and defects/EPA me for every after market item on my car. Even tho my car was fairly stock looking and Mods were kept to a zero visibility under the hood.. I still been EPA'd 4 times.. Yea... I dont agree with Drink Driving, and People who do it should be punished. There is far too many deaths in Vic due to drink driving... People really have to wake up.. But i simply hate it when you get owned for having a nice modified Street car and ur just simply cursing to your friends or what eva when they decide to own ur life.. The guy that bought my 33 got owned by the cops HE went for a jog around Albert Park, when he returned, there was a Police car parked next to his R33, Simply waiting for him... I think thats been dirty... Dont you? Its even funny because I do remember him telling me That the Police said that it is just a random breath test. lol So your angry the cops defected you for having illegal mods? Seriously you have to expect that if you own an import and even more so if its been modded. Yes some of the laws seem petty, but thats what the law states and they get told to target people considered dangerous on the roads e.g. any car that is known to belong to "hoons" and a 33 certainly fits in that catergory. At the end of the day a lot more c0ckheads drive imports than Corolla's, so obviously police are going to target the imports. Its not rocket science, a lot of people are just blinded by emotion when looking at these situations.

yes but we are talking about a car i have worked 4 years for which is worth alot more then a charade and also if i smack into an expensive car then i am screwed coz i only work weekends and can barely support myself let alone paying a 30k debt So you have been driving around a $30k un-insured car? If you cant afford the insurance, you cant afford the car. 3rd Party minimum to cover other drivers from your mistakes, the rest is up to you

Dude Chapel St and just about every street that comes off it has bars/clubs/pubs. Theres hundreds of them. If you get sick of that area its 3min down the road to St Kilda, which is also full of bars/restaurants/clubs and Luna Park if you want to throw up what you have been drinking on a rollercoaster. Then you have the city which is like 10min from Chapel St, so plenty of options locally for you. Keep an eye out though a lot of the nice bars in Melbourne you stumble across as there up hidden stairways or random alleys/streets. Yes general shops are open late, supermarkets and bottle shops are generally open to midnight or 24hr. Shopping centres stay open to 9pm every Thursday and Friday. You wont get in a fight unless you look for it. There are lots of dickheads looking for fights but dont spur them on or give them a reason to mouth off and you will be right.

The repair costs don't need to anywhere near the cars value to be deemed an economic write-off. I think the general rule is if the repairs cost more than 40-50% of the cars value then it is written off. In this case you could buy back the wreck and have it repaired yourself if you really want to. I can understand its your car and you want it back BUT it will never be the same as it was pre-accident. Espicially in a decent hit like that. Best to move on with a clean/straight S15 and transfer your mods over.

Prices will not 'crash' if and when the FHOG gets cut back, the low to middle bracket houses prices will stabalise in the short term. You may see a rise in some areas and larger decreases in other areas, particulary the far outer green belt areas. Three years from now we will see the effects of the current situation (low interest rates + large govt. handouts). Many people will start to default on loans as they borrowed too much money when interest rates were low and with little to no personal deposit. As rates rise they will feel the squeeze and many simply wont be able to afford the repayments. I have already heard so many stories of people borrowing 50-150k more than would have 1 year ago - these people need to think forward 2, 5, 10, 20 years ahead when making decisions like buying a house. There are good investment opportunities in every market - at high and low points - its just knowing when and where to invest your cash. Real estate will provide strong returns over the long run and carries much less risk than investing the same amount of cash in the stock market over the same period of time (although trends show the stock market would generate a higher return). It provides so much room to move in terms of tax planning and structuring, which is extremely important once you start to build your portfolio. I wouldn't be waiting to buy a house until house prices fall, just pick a sensible point in the market and think long term.

My last car had a full leather retrim. It felt (and smelt) so good But as the standard seats were retrimmed without adding extra bolstering you slid around everywhere on corners! It cost $6k including new carpets, trims wrapped in either velour or leather and of course the seats. Best thing is the last owner paid for the work

Depends what the application is? I know many people running e-manage blue with both stock and aftermarket turbos. If its for a street car with less than 300rwkw then they are a nice cheap alternative. Main thing is you need someone who knows the unit too tune it.

No labor promises to build infrastructure using government funds, then once elected they turn around and say 'oh sorry we meant you the taxpayer will have to pay for it'. Remember Labor + Bracks + Eastlink promise

I thought the norm was to get two quotes and send it to them.

Haha Young Slapper + Hoppers Crossing + VN...the pieces just fit so well together ....Seems expensive too for an unregistred VN.

Wouldn't that be 134 @ all 4 wheels? Still thats what i would expect a stock 3000GT to make...

Built 1.5JZ + Garret TO4Z

If you want a reliable car then your best bet is a Toyota, having said that most imports are all 10yrs+ now and will require maintenance. My choices would be... 1. Non-Turbo Supra (1993+) - auto or manual, 3.0L I6, can look and handle ok.Example 2. Non-Turbo JZZ31 Soarer (1994+) - auto only, same engine as above, lots of luxury goodness.Example Both of those cars would smoke N/A S13's, Pulsars, Integra's etc, however not handle quite as well. That being said I think they would handle more than enough for your requirements.

Haha your joking right? They are a part of motoring history, back in there day they were the fastest 4 door car in the world. They also did the 1/4 mile in 14.6 sec straight out of the factory - this is back in 1971! The thing is a 180 will never have the worldwide recognition or status of these cars, the ONLY import that does is the GTR. Also I'm not biased in my comments - my last three cars have been imports...

List the best places to find cheap last minute travel deals. I have a month off to work kill and travel sounds good

Either way it sounds like you will be the junior/apprentice so take the Porsche or Jaguar job, for several reasons.... 1. Established business = job security i.e much less chance of a multi-national company going under than small surburban workshop. 2. Possibly better wage/entitlements 3. Experience at a 'prestige' workshop will look much better on your resume for future jobs. Personally I would go the Porsche becuase I like them more than Jags Either way i'd rather be doing basic servicing on a Porsche than someones clapped out R33 or installing a Monza BOV on a WRX and listening to their retarded owners tell you how sick there cars are.