Okay I finished this!!!!!
Sorry it took so long, but it's done!!!
It's quite simple! I found another thread and followed it from there. It wasn't quite good, but that's why I took from that and put it in my own terms.
Made it simpler for everyone.
Note, if you want to do this mod, you will cancel the switch and will be able to only use the ign. Later down the track I'll figure out how to include the switch as well as the ign.
So here we go!!!!!!!!!!!!
TOOLS and Materials:
-
Wire - 1.5m Black - 2m white - 3m Red. (Colors are optional, mine are 1.5m black, 2m white and 3m brown)
- Inline fuse holder
- Inline fuse (15AMP)
- Electrical tape
- 12V test light or multimeter.
- Soldering iron and solder (OPTIONAL)
- 1 Relay DPDT (Double Pole Double Throw)
- 1 Relay holder DPDT
- Heat shrink tubing (OPTIONAL)
- Pair of pliers/strippers
- Terminal connectors (OPTIONAL, Not needed really)
- Screw driver, both Phillips and flat head.
- Your head.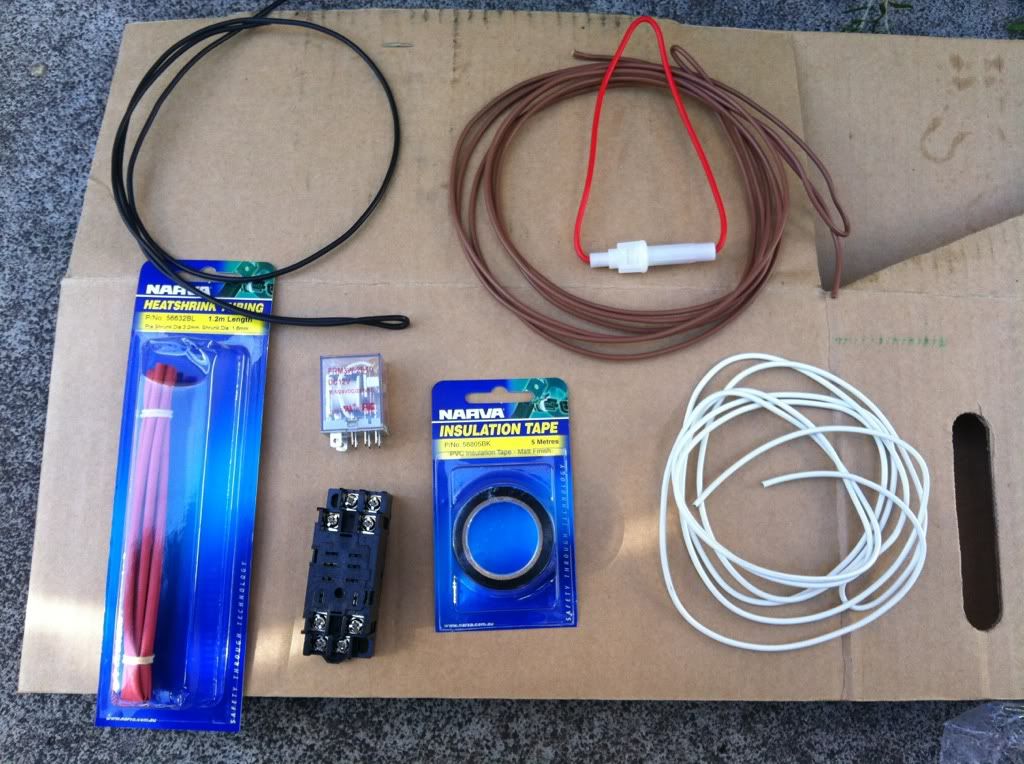 Maybe I forgot something, use your brain to figure it out lol.
Step ONE:
Remove Interior pieces. You will need to remove the center console and the stereo trim.
Remove drivers side pieces. These are 3 pieces, under the steering column, and around the ign barrel.
Remove radio as well.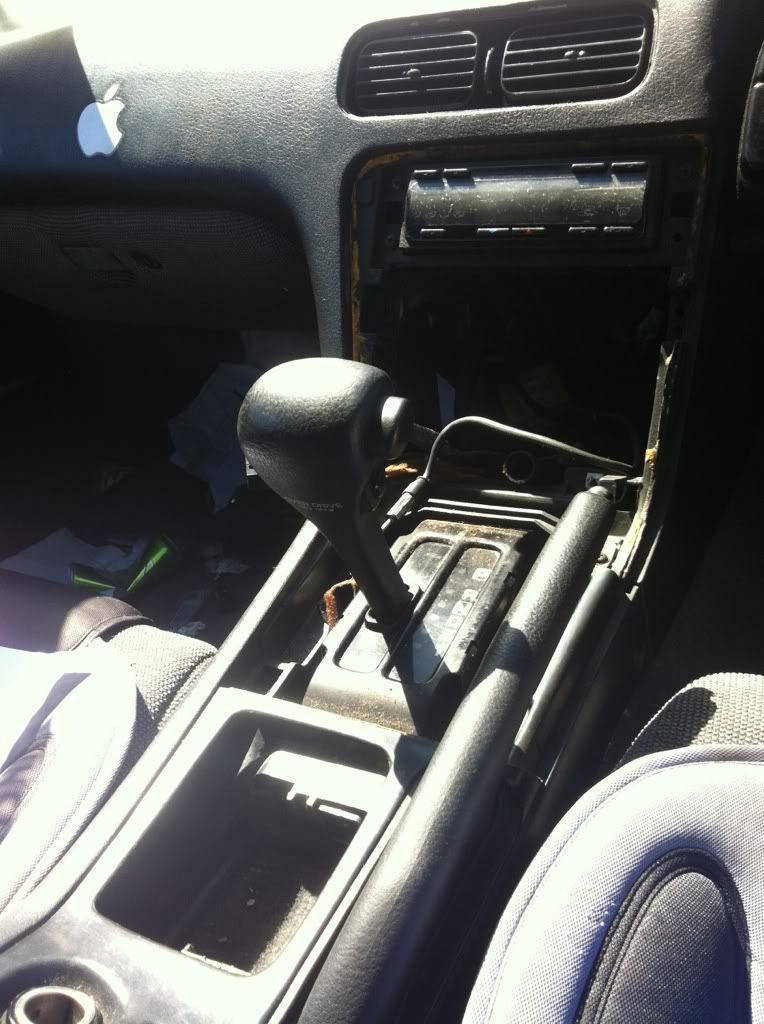 See below, there are 2 screws on the center console at the front, located on the side. And 2 on the rear, where the compartment is.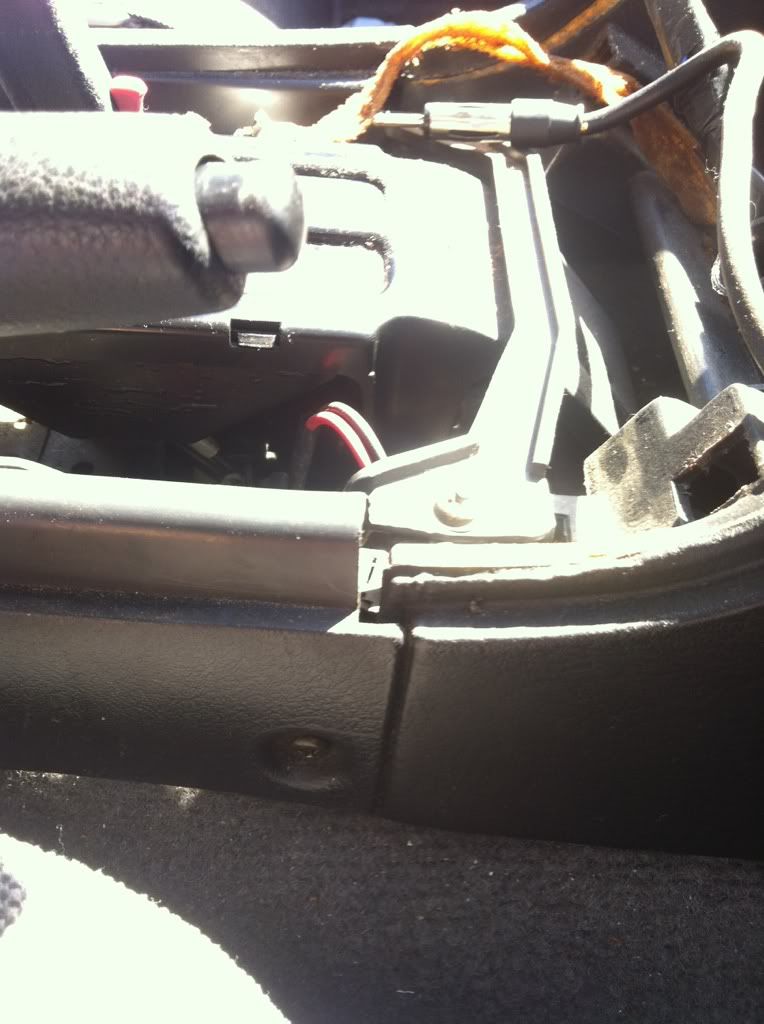 Remove the lighter socket, and the switch. You can unplug these both, Don't lose them, especially your switch!!
Use a flat head screwy and gently pry them out.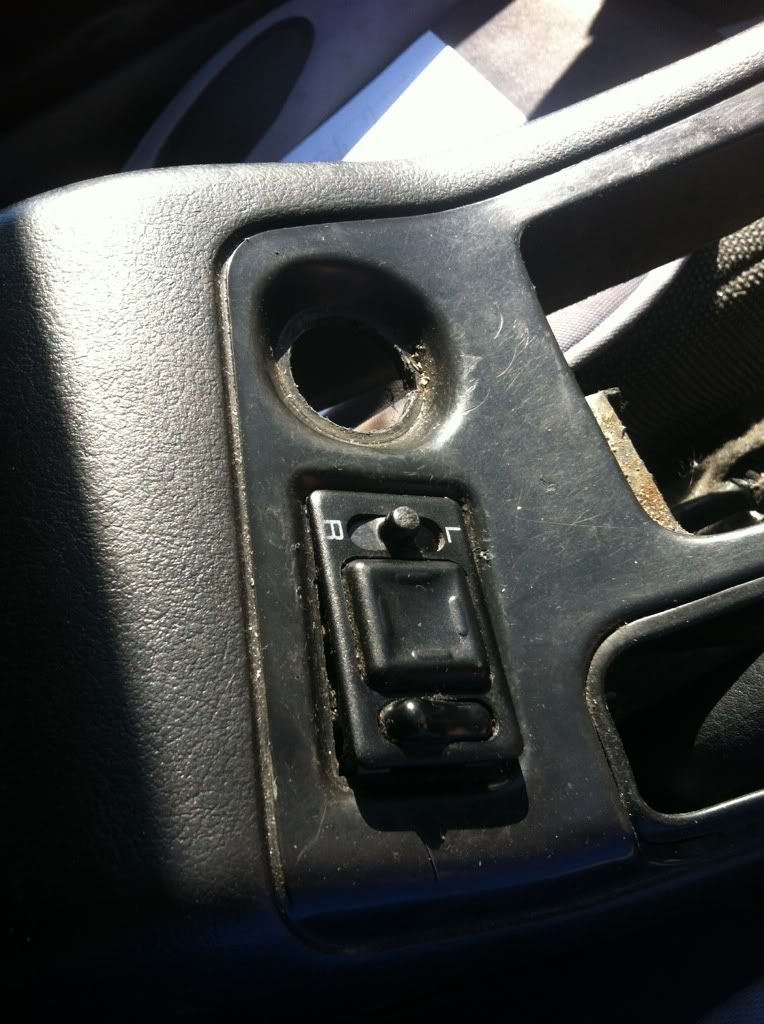 Once your finished removing plastics it should look like this.
Be gentle with them, don't force them open, there are wires connected under the center console, unplug those.
Radio should have only 2 plugs, or 4 if you have aux cables, remove those, remove radio, put aside.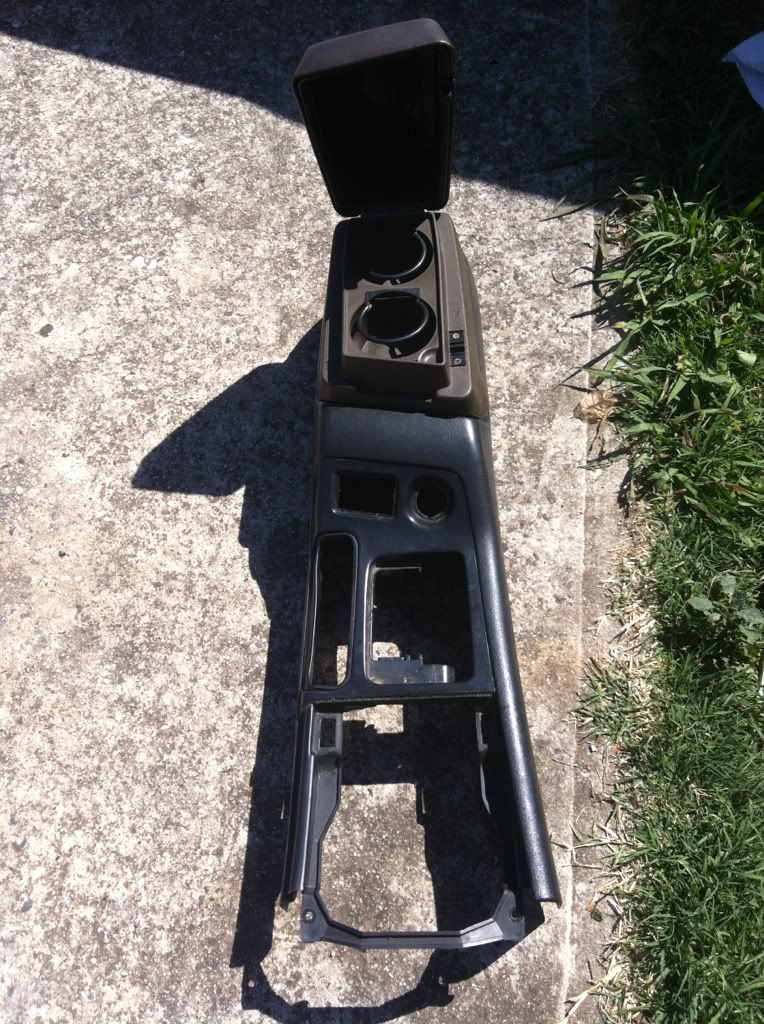 Your ign barrel.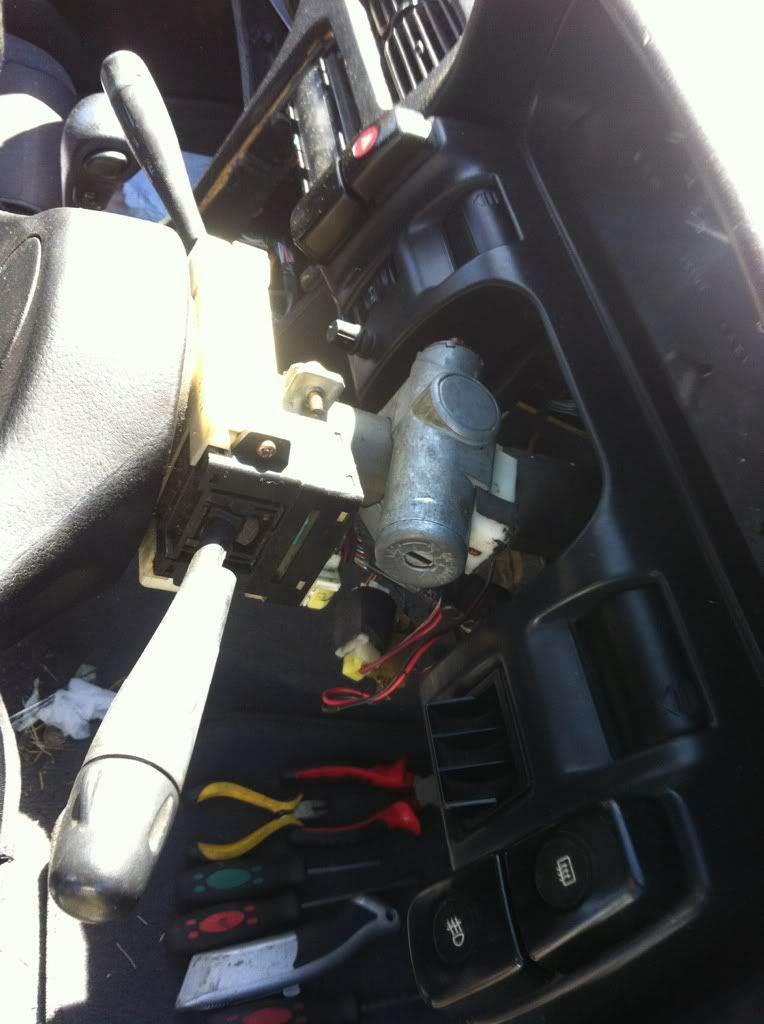 Alright, that's the plastics taken care of!!
Time for the hard bit. (Piss easy)
Unplug the negative cable from the battery. (Optional, but safer. Will delete your radio memory, and reset your clock)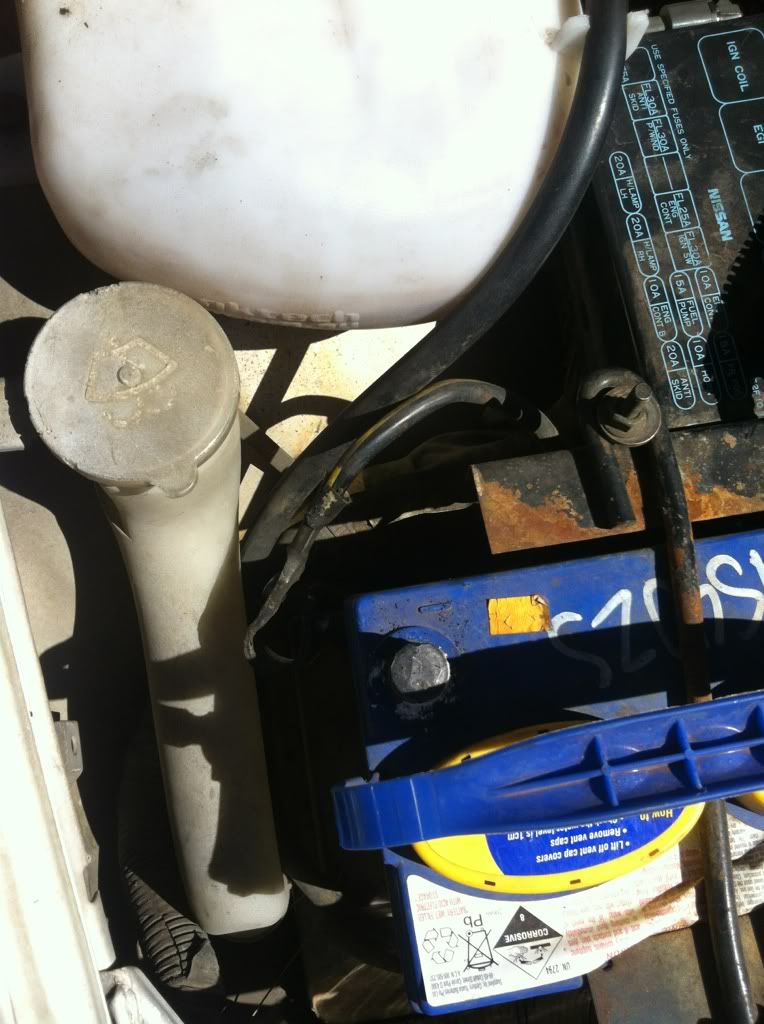 STEP 2: Getting constant 12v
Next find a gap in the fire wall. I used the small plug that your bonnet latch cable runs through. Cut a hole in there, just enough for your red/brown wire to pass through.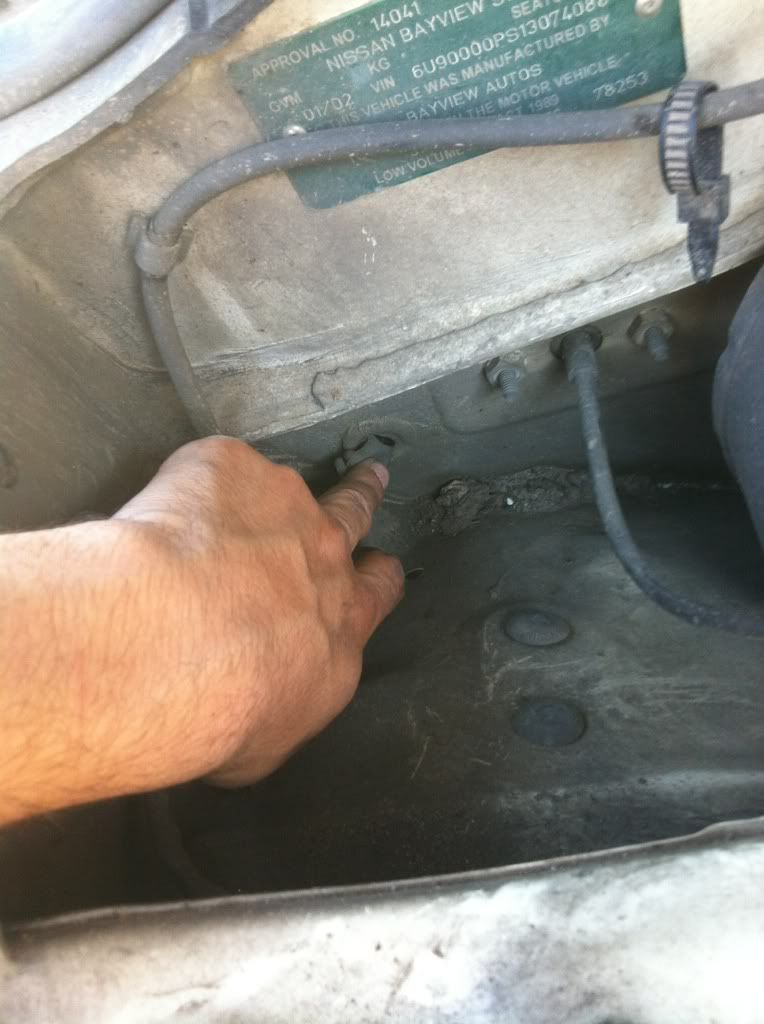 Tie one end of the wire somewhere near the positive terminal, feed the other end through and pull it out all the way.
Leave some slack on it so you can cut and cable tie it neatly.
When you have pulled it out all the way inside the drivers side, get under and run it OVER everything, including steering column, and feed it inside where your radio goes.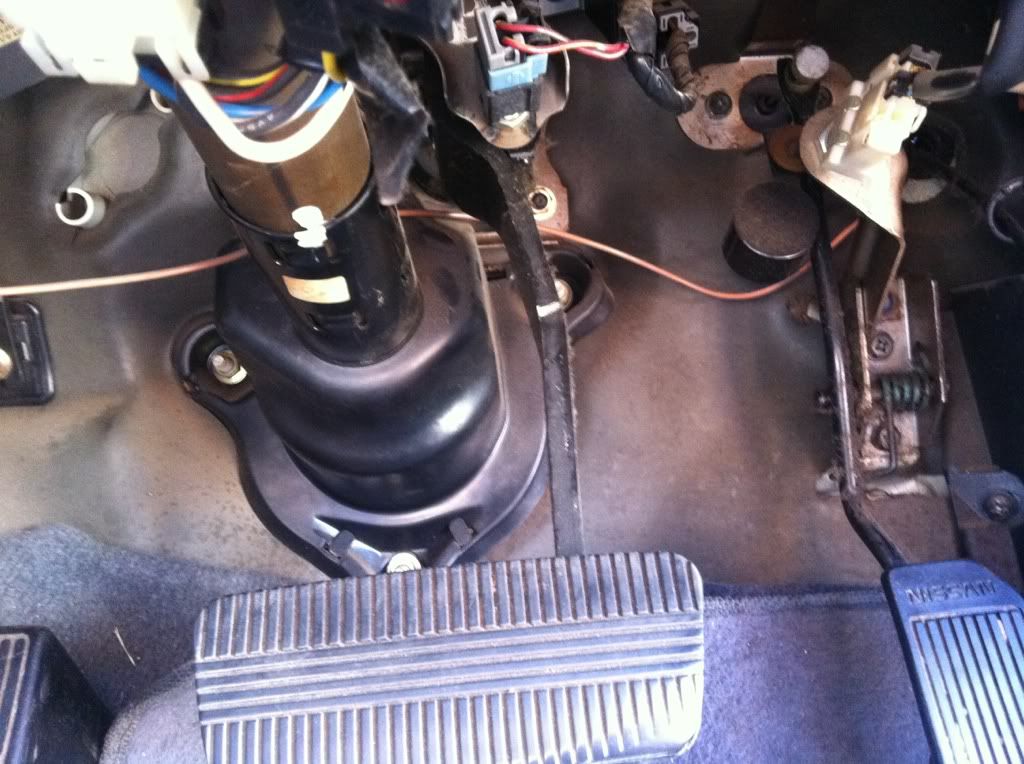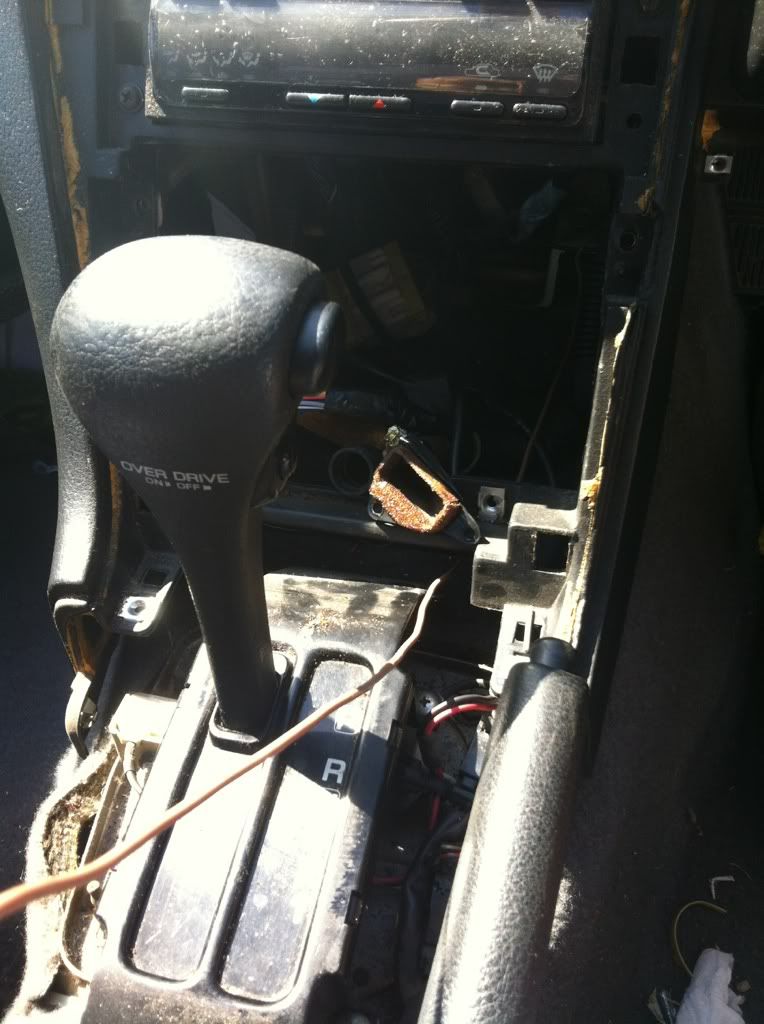 Like so.
Next, you can either do it the right way and get some terminal connections, or do it the dodgy way, but still works like me.
Cut the end of the brown/red wire, and expose the copper inside. You can either now add your connector to it, or splice one of the thick cables, spread some of it out and feed your cable through there.
Wrap it around and with your electrical tape, cover it up.
Should look like this, but covered in tape.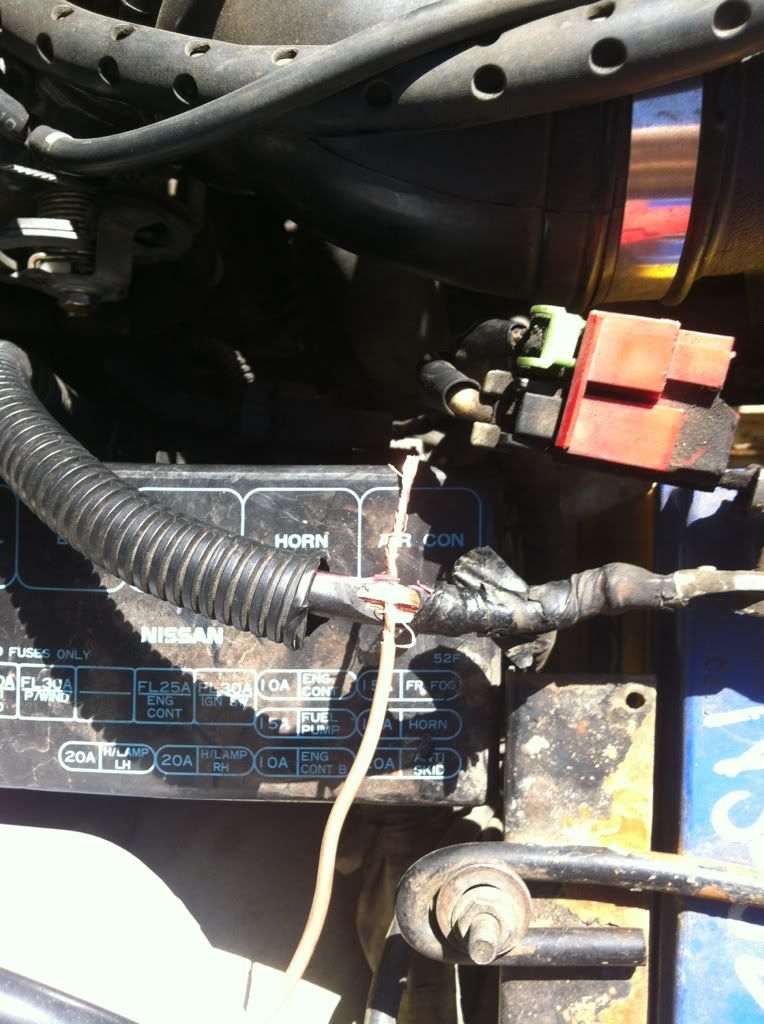 Feed that brown wire inside the driver kick panel, and pull it out through where the radio goes.
Cut somewhere along the wire, inside where the radio sits and connect your inline fuse.
Grab the end of that, and attatch another 2 wires to it to form a Y. So the ends of your wire you have 2 feeds.
2x 12 V constant feed is now done!!!!!
Step 3: Ignition wire.
Okay, next we are going to use the white wire which connects to the ign ON.
Get your test light, or multimeter for this one.
Go back and connect the negative cable to the battery.
Test each pin (Located on the left hand side of the wheel)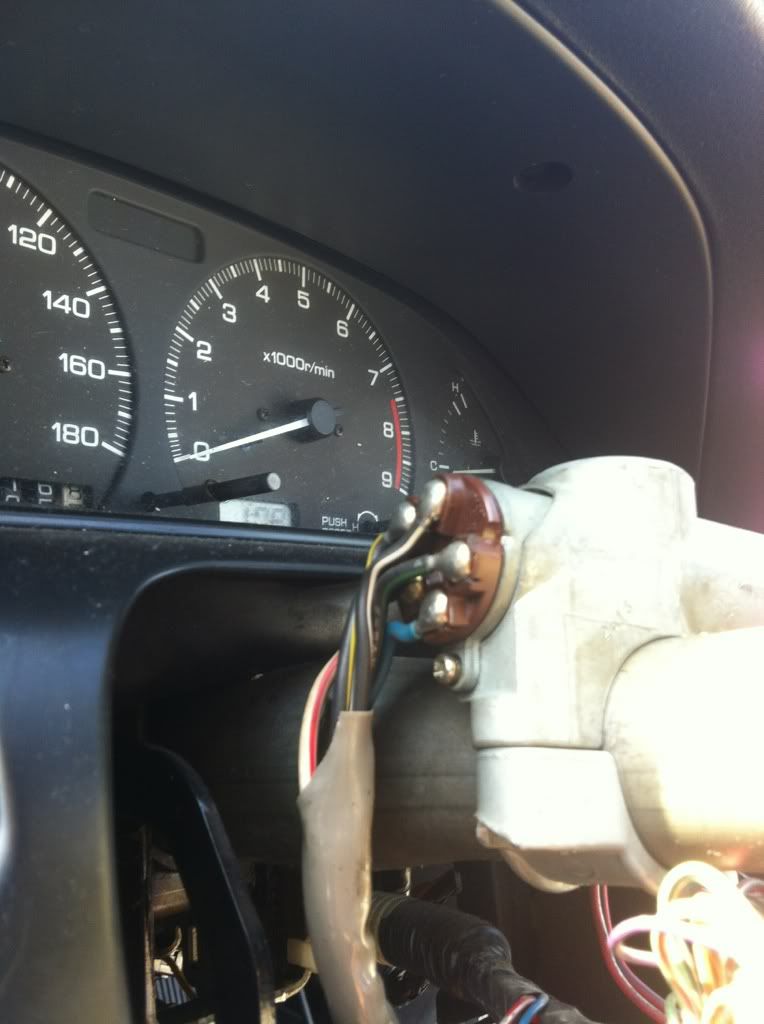 With your ign off, test all the pins, there should be one constant 12v there. Don't use that.
Switch to ign, and you should get a reading of 12V+ on your multimeter, or the light turns on on your tester.
I used the BLUE wire coming off it. Which, was wrong, but it works, you can wire it to this or the other 12v+ available.
Anyways, this step is either way. You can do it the right way and solder straight onto the pin, where the blue wire goes.
Or splice the blue wire like I have.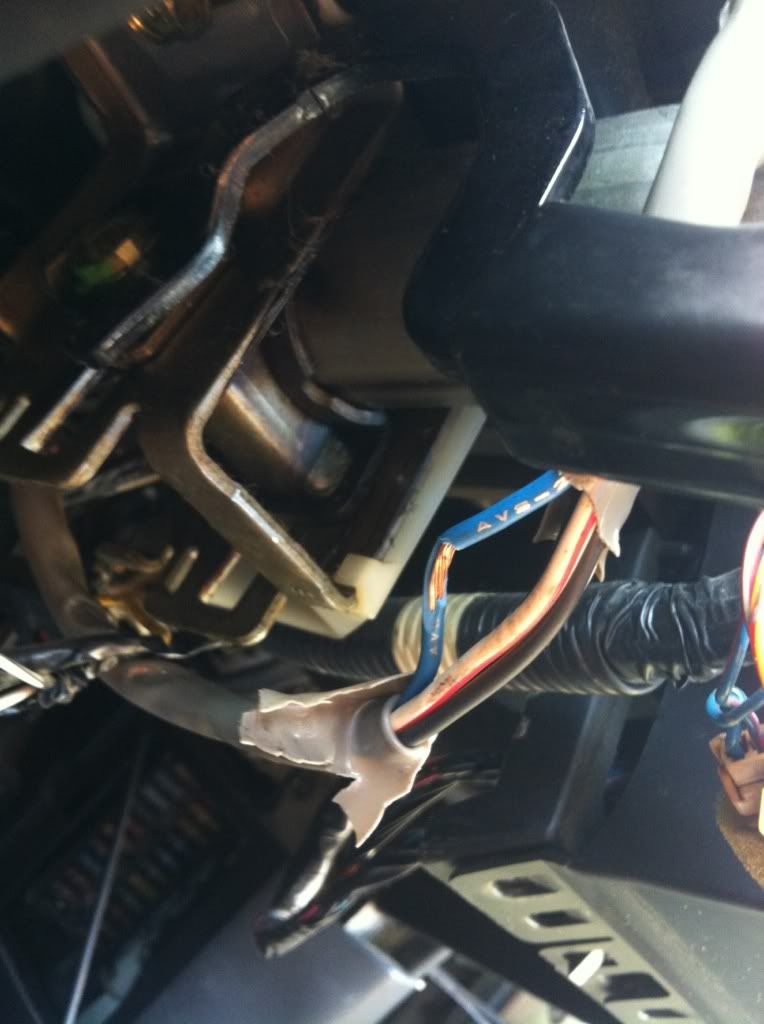 Same deal as your brown wire, just split in half, DON'T CUT.
Get your WHITE wire and wrap it around it, and then tape it up.
Run it along the steering column thing, and tape/cable tie it there.
Run it the same way as you did to your brown wire.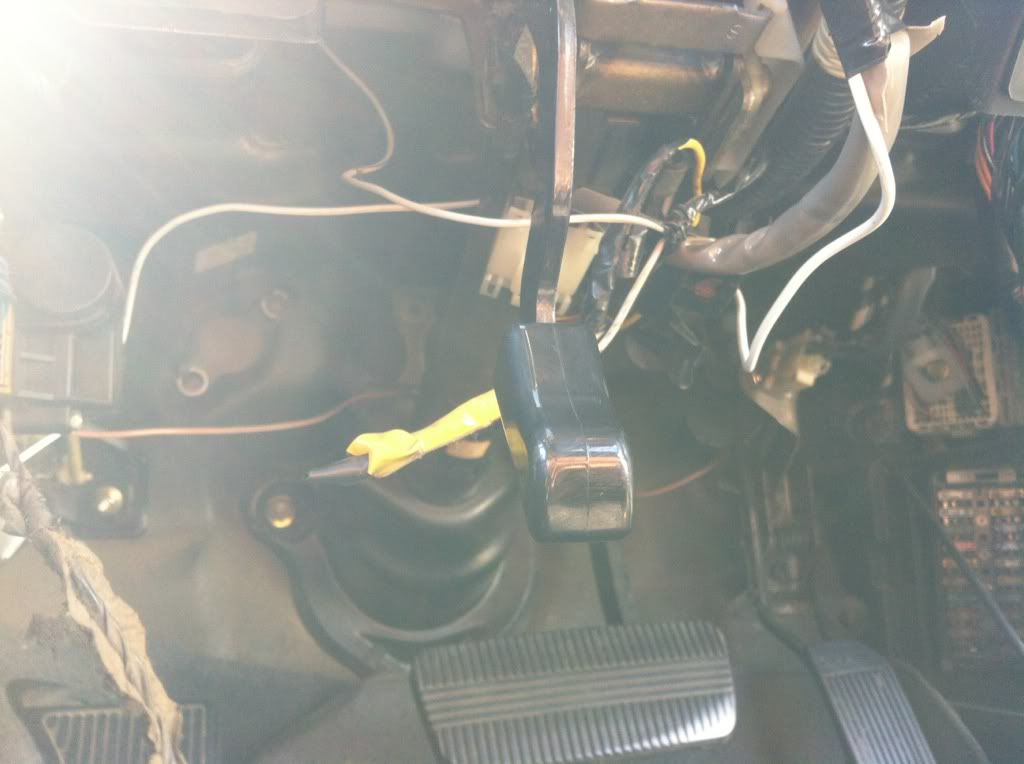 Step 4: Grounding.
Alrighty, this is easy.
Get your black cable, cut it in half, grab one of them, strip it, and find a solid ground point. I used the bolt that holds the brake lever together.
Wrap it around the bolt, and then bolt it back on. Simple.
Grab the other half and do the same, but on the other bolt (Don't bolt them together for some reason I decided not to LOL)
Next, cut about.. Mmmm 20cms? Of one of the grounds, and cut that in half again, and connect it to one of the ends of the grounds, so it forms a Y.
Look at pics if your a confused f**ker.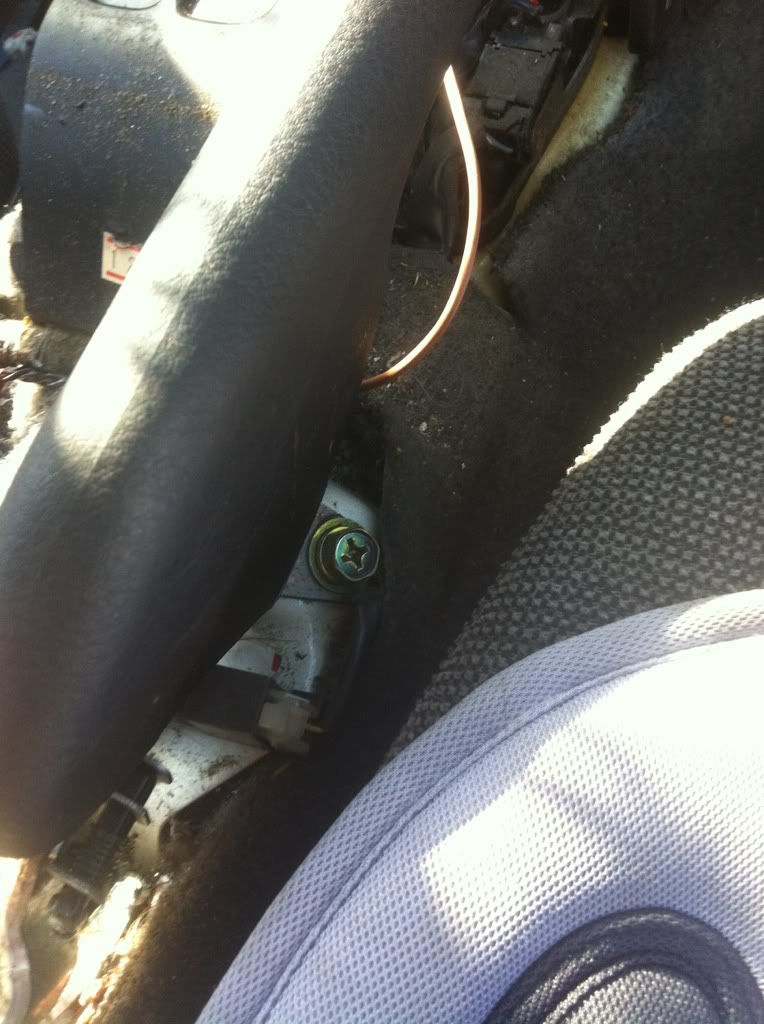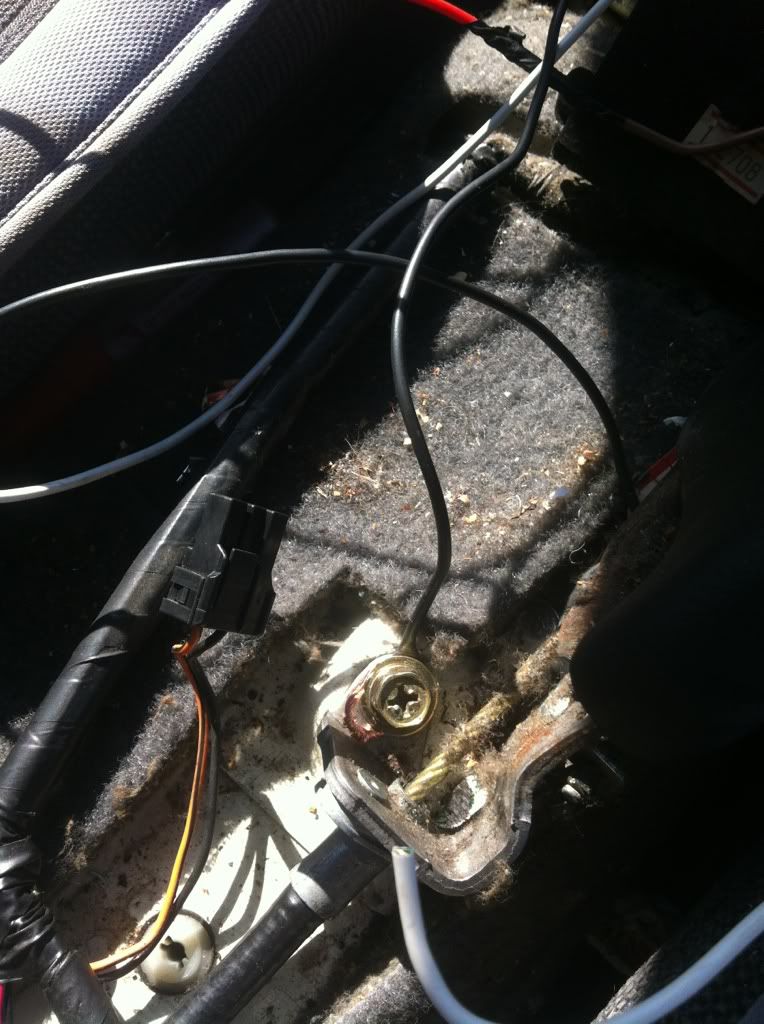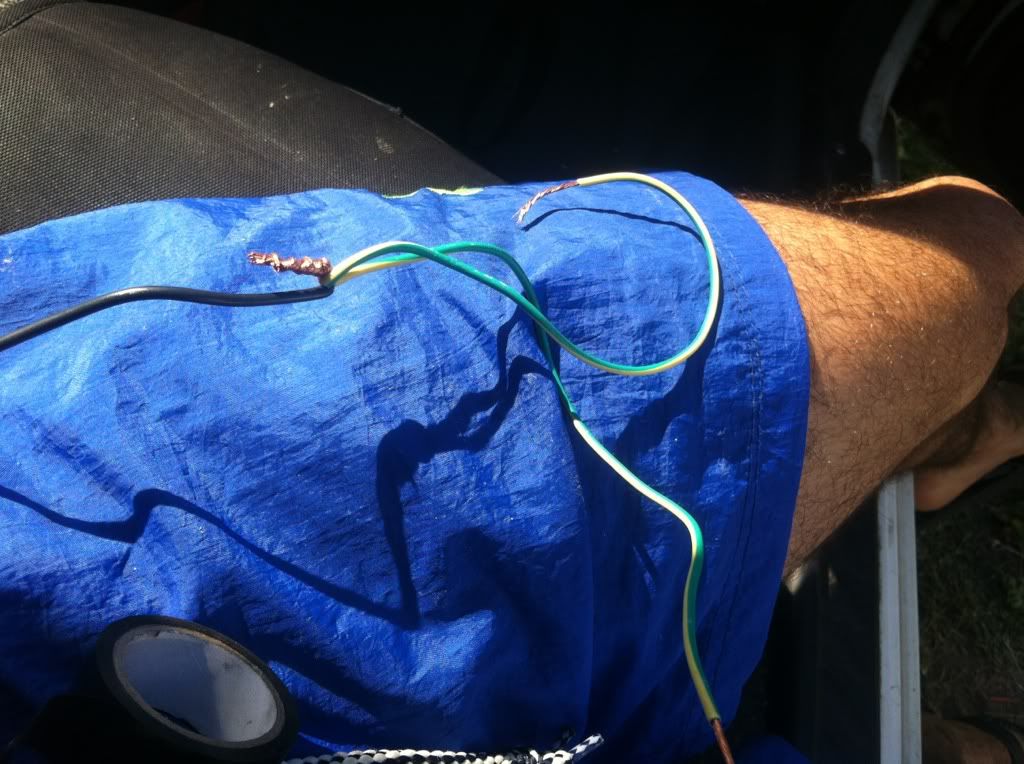 Step 5: Wiring mirror switch wires. (ONLY 2)
This is easier then above, but if you cut the wrong one then your screwed LOL.
Okay grab the white connector that clips onto your switches.
Find the BLUE and GREEN wires.
LOOK AT THEM CAREFULLY!!!!!!!!!!
Some might look blue/green but they have 2 colors on them, you need SOLID green and SOLID blue.
Blue, green, blue, green. GET IT?
Look below.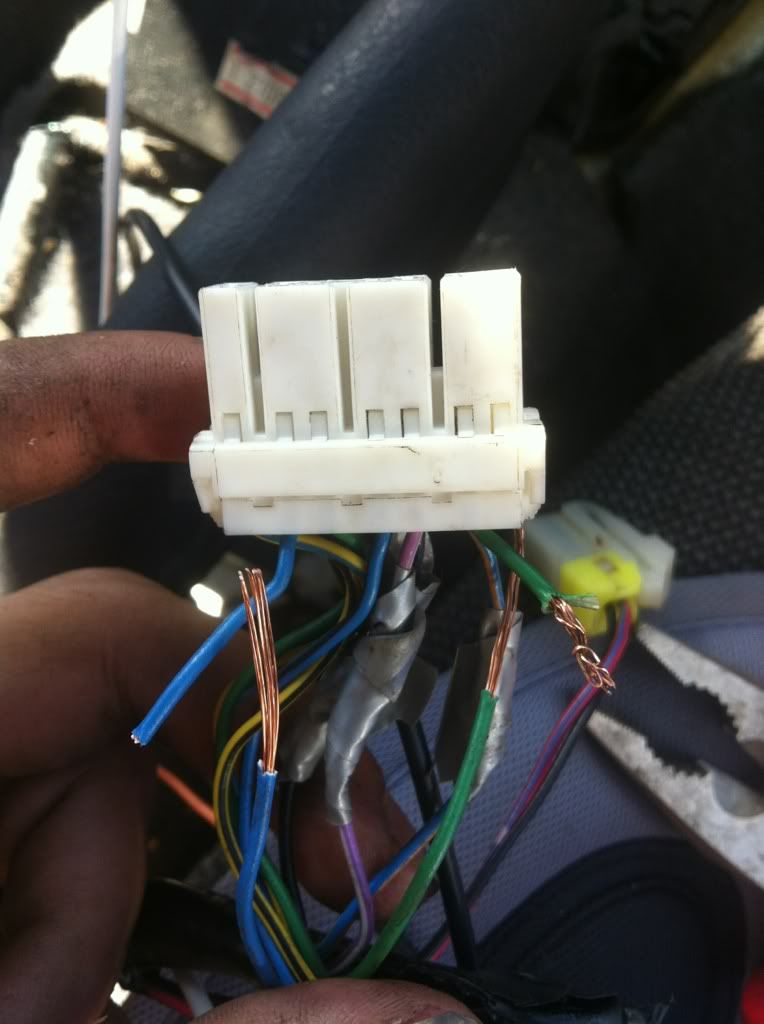 Cut the blue and green wire. Leave some wire from the connector for maybe if you don't like this mod and want to revert back. (Or we can use them later, for something)
Grab the ends or the wire, not the one in the connector, but the ones lose that go down. Strip them, blue and green.
Extend them by 20cms or so. Just enough to attatch to the relay.
Step 6?: Relay + Relay adaptor + wiring + yeeeeeeeeeeeeeeeeeeeeeeeeeeh.
Alright ladies and gentlemen. Follow this very close.
Grab your relay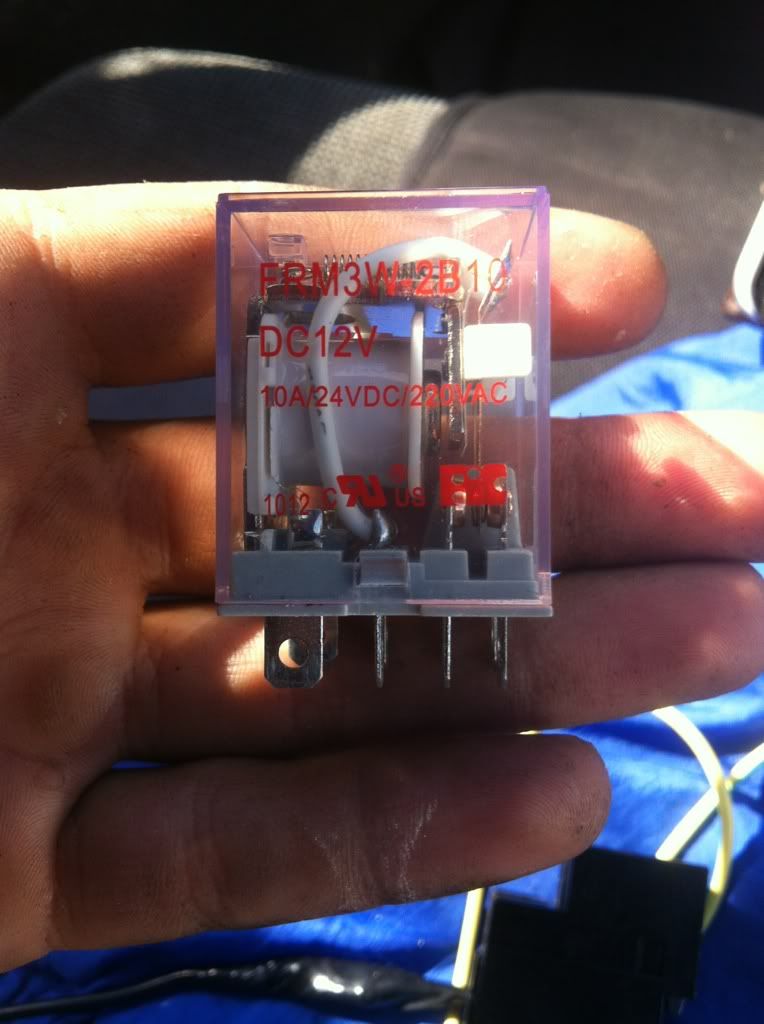 Grab your relay adaptor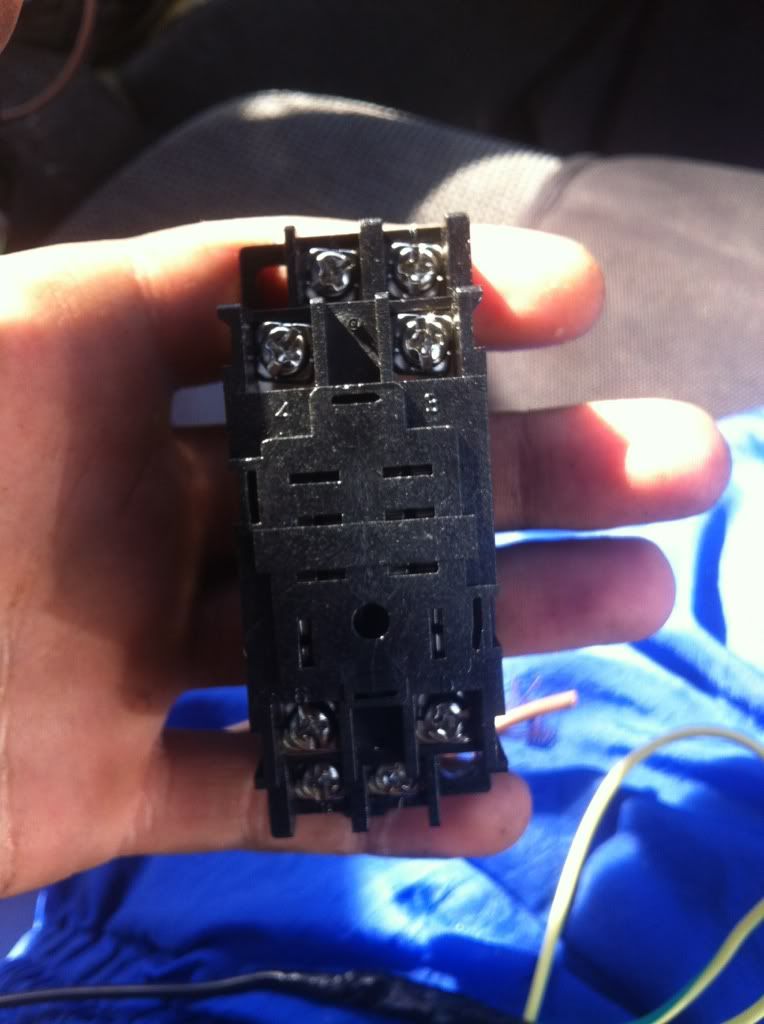 Make them have sex!!!!!!!!!!!!!!
Next grab your switch and connect it back together.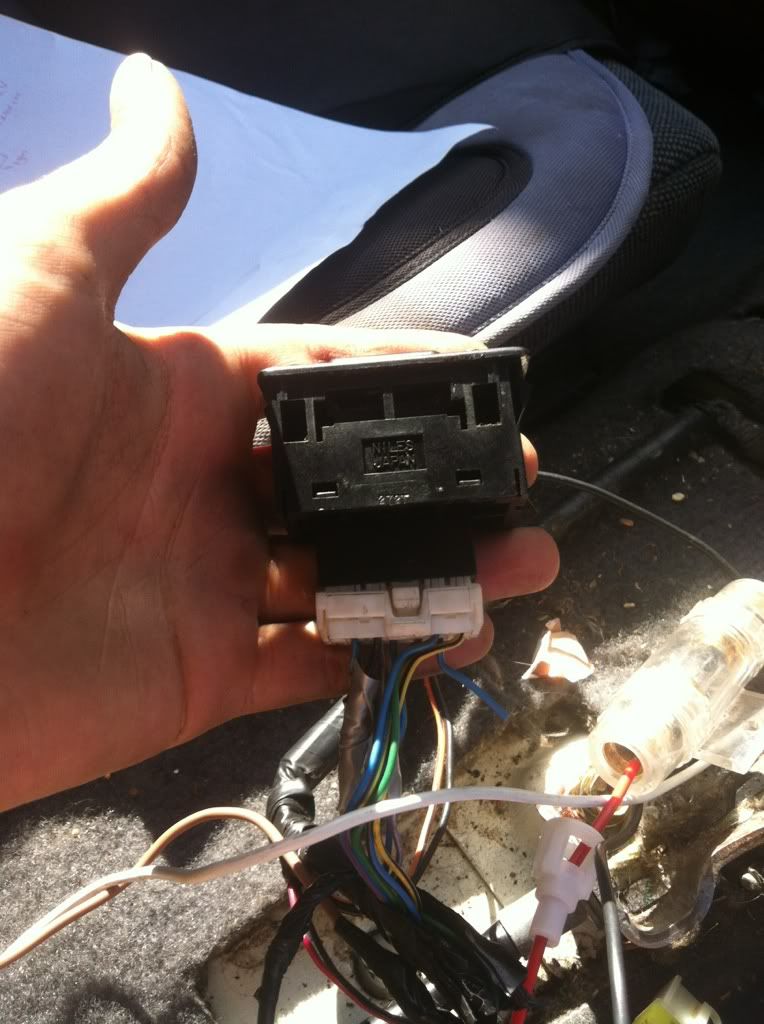 Almost done!!!!!!!!!!!!!!!!
There should be 8 wires in total!! If you missed any, count them all, and see which ones you missed.
1) Constant 12V (brown)
2) Constant 12V (brown)
3) First Ground (black)
4) First Ground (black)
5) Ignition 12V (white)
6) Second Ground (black)
7) MIRRORS OUT (green or brown extended)
8) MIRRORS IN (blue or brown extended)
Now.
Follow this diagram and wire it to your relay terminals. If you bought a relay connector then you don't need to solder, just unscrew, fit wire, and screw.
Makes it so simple.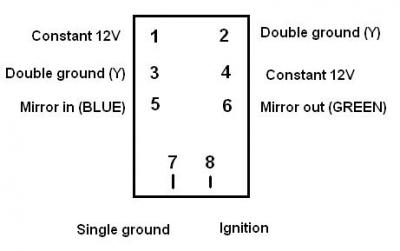 You should be finished. Go test it out.
If it doesn't work, go check your battery, see if you forgot to connect all up.
Here's the video of them working.
Total time = 45 mins.
Total cost, around about $50.
I made the mistake by buying most of the things from super shit.
If you want to save cash, please buy from JAYCAR
Edited by Rolled Cambers, 23 January 2012 - 05:15 PM.