CarPC Guide PART ONE
Beginner
Some of you may or may not know that a few months back I completed my carpc installation. Iím not an EXPERT in this but after all the reading and doing the install myself, Iím better then the average Joe! Its also going to be a lot of reading but will save you from going all over the internet to find out information.
Before I go on I want to let people know that I got ALL my information from
http://www.mp3car.com
It is the definitive source for all your carpc needs, the people there are really helpful, so I take no credit for some things down here, Iíve just written things from my experience and what Iíve read. You will find much more info there then in my guide, my guide will just help you get started in the basics.
Photos during the installation can be seen here:
http://www.wooso.com...cts/bootinstall
This is basically going to be a guide on the proís & cons, getting a basic setup working and info you need to get started!
SoÖÖÖ lets get started!!
What is a Car-PC?
Well itís basically a computer in your car! Very versatile and pretty robust in car entertainment (ICE) system.
Why a Car-PC?
Its a versatile system, you can do so much more on it then pretty much any high end car multimedia system you can buy. Sometimes even better or the same as ICE systems you get in top of the range BMWís and MERCís. (only difference is theres is OEM, they have a lot of custom stuff, you can do that too, just takes more work and know how.)
What can I do with my Car-PC?
Anything you can do on your home computer you can do on your car-pc, here is a basic list:
ē Audio (mp3, wav, ogg, etc)
ē Video (avi, mpg, wmv, divx, xvid, etc) pr0n!!!! zOMGWTFBBQsauce!!!!
ē GPS Navigation (even with turn by turn instructions)
ē Control your phone via Bluetooth (limited voice capabilities, but you can actually make and receive calls from your computer, a bit difficult to setup at the moment though)
ē Voice recognition, navigate the PC via voice, night rider stylez! WOOT!
ē Play computer games
ē Access the internet via wireless hotspots or when your car is parked at home.
Just for your information these are the specs of my carpc and system so you know just how low you can go and still have a very good system that will rival many high end ICE systems.
Computer:
Intel Pentium 3 500Mhz
386MB PC100 SD-Ram
40GB HDD
D-Link Wireless NIC
MSI Bluetooth Dongle
Opus 150watt DC-DC Power Supply
Mini Keyboard
Lilliput 7Ē Touchscreen VGA LCD
Sound Blaster Audigy 2ZS
Sound:
1x Alpine V12 MRV-T420 2 Channel Amp
Focal Polyglass 130V2 w/ MB Quart Tweeters
1x Alpine V12 MRD-M500 Mono block
12Ē Rockford Fosgate DVC Sub
Now Iíll List what I think are the proís and cons of this type of ICE system. (in a Nissan its called N-ICE! Ho ho ho! Iím so funny!)
Proís:
Extremely customizable
All in one system: MP3, WAV, OGG, MPG, DIVX, XVID (pretty much any audio and video format a computer can play!), GPS, Voice recognition, multiple camera options (rear, front, side, top, bottom, etc)
Itís a computer, so you can do pretty much anything! Even play games!
Because itís a computer, more so if you use an old one, if it gets stolen, thereís hardly any resale value! Like mine is worth whatÖ. $50?
A lot cheaper to purchase then an in car DVD player, etc.
No more changing CDís since you can store ALL your music and videoís on the computer.
Gets chicks!!! LOL
Cons:
At the beginning if your not really computer literate there is quite a steep learning curve.
Heat might be an issue depending on the system you use and how you set it up.
There are small risks with computer hard drives (Iíll get more into this later)
Not an instant start up like car audio stuff. My carpc takes 54 secs to turn on from hibernation and about 4 mins from a cold boot. 99% of the time the computer goes into hibernation when I turn the car off, so cold boots very rarely. I donít mind the wait, but if you are REALLY impatient then maybe a car pc is not for you. People are known to get their system to come back from hibernation in 20 secs or less!
Unless you use a mini-itx system it can be quite bulky, luckily my old system was a micro atx format its slightly bigger then a mini but no heaps.
There is risk for windows freezing, itís never happened to me before, win xp is quite stable!
Thatís all I can think of for now. So onto the basics requirements:
What do I need to get this fully sick system up and running?
The great thing about the car-pc is you can pick from the beginning what you want and what you donít want, think of it as nodes, nodes you donít need you can leave out which saves you money! This section will cover hardware, software will be next.
I would recommend that you plan your system carefully and not rush into it, small items like: USB hubs, GPS units, and easy to add items wonít be much of an issue, but things like CPU and ram, etc will become a bit of a hassle, though it wonít break your bank if you change your mind later on, it just might be a hassle due to system requirements and will save you time! Time = money!
Now you need to ask yourself, what do I want from this uber piece of a system?
Do I want just music and video?
Wireless internet?
GPS Navigation?
Reverse cameras?
Play high end games?
Just make a list, Iím greedy so I wanted everything! For example a wireless NIC will only set you back about $50ish so itís not going to be that bad if you change your mind.
The price can vary from $1500 to $4000+ it just really depends on how much you want! In saying that my system which cost me less then $2500 INCLUDING my car audio and it can do everything I have listed.
Now, onto the items you need (This is the basic system to get you up and running):
ē Motherboard
ē CPU
ē Ram (use 1 stick of 256 or 512 to save power)
ē Hard Drive (if possible use a 2.5Ē drive instead of a 3.5Ē cause they are abit more robust and a lot smaller!)
ē Power Supply (I will get into this later)
ē Sound Card (Donít skimp too much on this)
ē Case (unless your custom building your own box)
ē A few fans for ventilation, but you should plan this so Iíll get in to it later.
ē VGA LCD Screen, its best to use a touch screen! but whatever suits your budget! best size to use is 7" but you can go bigger, 7" fits pretty much perfect in double din space! so unless your doing major fab work 7" is best option, if your going the whole hog, well... whatever rocks your boat!
Itemís that are optional:
ē External DVD Drive
ē Keyboard (Iíd recommend it, but you donít need it ALL the time)
ē Wireless NIC
ē Bluetooth dongle
ē GPS Dongle
ē USB Cameras
ē Various accessories like: neons, fan controllers, VFD lcd screens, etc
I havenít actually told you parts to buy because well, itís entirely up to you how much you want to spend. Iíll list some web sites so you can look at prices, write down my list above and then write the parts youíll buy.
Please keep in mind that running a fully fledge ATX system with the latest and greatest of gadgets is not desirable. Since it will eat up ALOT of power, you need to keep power consumption in mind.
So how will you know how much power your things will be taking?
http://www.jscustomp...m/power_supply/
The link above will give you a rough estimate of the power consumption. Keep in mind that it is going in a car so don't go overboard, plus going over board will cost more money, unless your loaded then go easy. i'd recommend the VIA mini-ITX systems or an old P3 system like mine (make sure you clean it!) newer computers eat more power, Intel says you should be using AT LEAST a 300watt PSU for a P4 system. So unless you plan on running big games on your system don't get a P4 or high end system.
UPDATE (03/08)
Mounting your Hard Drive
Probably the weakest part of any carpc will be the hard drive, they are pretty robust but because they do have moving parts, it is possible that it may lock up if some drastic happens like you hit a big pot hole or fly off the road.
In saying that I haven't experience any hard ship with my hdd (keep in mind that it is an old one too!). So how do you mount your hard drive so it suffers the least amount of shock and possible damage?
You can search the forums at mp3car.com as they go into good detail, but I'll go through the basics. Most people agree that mounting it vertically will give it the best possible protecting.
Also you need to mount it VERY stiffly against whatever it is mounted too (and whatever it is mounted to needs to be very stiffly mounted too!), this way it is less likely to move around when you brake suddenly, use rubber/silicon mounts to absorb vibration.
I haven't read any tried and true methods, some people have reported HDD death pretty early and they've done alot to prevent it, others had more luck. I think its just a bad luck thing for those with failed hdd's.
Also try to get a 2.5" laptop drive, they are abit more expensive but are alot smaller and also can take abit more punishment. Unless you want like a 200+gb drive then get a 2.5" hdd, then get a laptop drive to ide converter you can pick them up for about $20ish.
Keep in mind that hard drives arn't THAT expensive and if it does die after like 6 months - 1 year, most times it'll be covered by warrenty or if not. think of all the cd's you would've burned and wasted and it'll probably close to the same cost!
http://www.msy.com.au
(they are usually VERY cheap, just shit service)
http://www.pccasegear.com.au
(all your computer rice needs, good for getting fans and CCFLís, etc)
http://www.auspcmarket.com.au
(just have a look, not always the cheapest but they have a great e-commerce site, so look for what you want and then shop for cheaper prices)
http://www.cworld.com.au
(I find sometimes these guys have cheaper prices then MSY, SOMETIMES!)
http://www.digitalww.com
(site looks dodgy but the guy is legit, all your car-pc needs)
http://www.mp3car.com/store
(similar to digitalww, mp3car is also THE BEST car pc resource, Iíll get to that later)
How do I power this interesting contraption?
Computers run off DC power, your computer PSU (power supply unit) converts AC > DC. A car runs off DC too, so why do you need to buy a special PSU? Well Iím no electrical expert but it would be something to do with unregulated power, etc. Car voltage can get up to 14.4v and most pc components only take up to 12, and their very sensitive, so I DONíT recommend plugging the computer directly to the car. Unless your rich, then by all means go ahead.
So what do I do dammit!!!!
You need either a DC-DC PSU or an inverter. If your using an inverter then you just need to use standard PSU as well.
I do not recommend using an inverter as they are highly inefficient things and though cheaper then most DC-DC converters, they will cost you in the long run as you can run risk of stuffing up your hard drives and stuff due to incorrect start-up and shut down procedures. Which is why I wonít go in-depth with them, its just not worth it. Also when you use an inverter your power will go like this:
Car Battery > Inverter > Startup/Shutdown Controllers > Power Supply > PC
If you get a proper DC-DC converter like the OPUS itíll be:
Car Battery > Opus > PC
It just saves your more hassle and much less wiring, some computer power supplies have been known to get too hot in the car and actually melt the glue that is used to hold some components, so its up to you. Spend the extra for piece of mind or save a few bucks and have to buy a new computer after summer!
The BEST or what I recommend is a dc-dc converter and that is the OPUS 150watt dc-dc converter. This thing monitors your battery (if your car is off and your using the computer itíll shut everything down if battery voltage falls too low, Iíve used my carpc for over 2 hours) and controls the computer start-up and shut down sequences, when you turn on the car itíll turn the computer on for you, then on shut down itíll hibernate the computer for you and you can even select delayed shut down times, so you can leave it on for another 20 or more minutes if you wanted to, it is also built for the car environment.
The OPUS psu also can survive crank, which most inverters donít, so when you turn on your car while the computer is on, it wonít reset. YAY!
Spend a bit more on the power side to save you headaches in the long run. Trust me! Do it right the first time or donít do it at all.
http://www.mp3car.com/store/product_info.p...;products_id=32
Getting Sound:
So how do you get sound out of this? You can use any old sound card, but I recommend at least a SB Audigy, better sound quality, I got the Audigy 2ZS which has about 108db SNR! This is great, as you wouldnít want to hear buzzing noises when youíre cruising!
Just use the audio out of the sound card to your line-ins from your amps, youíll need this little jiggy miggy:
http://www.jaycar.com.au/productView.asp?I...mp;SUBCATID=597
Its quite simple! If you want to do 4 channel sound with front and rears then just buy the appropriate sound card, if you wanna go all out and do 5.1, 6.1 or 7.1 sound then youíll need at least a SB Live card and multiple amps, it gets quite complicated on multi channel sound so read this link which will tell you how you should set up your sound system depending on your requirements:
http://www.mp3car.co...ead.php?t=32430
For the lazy: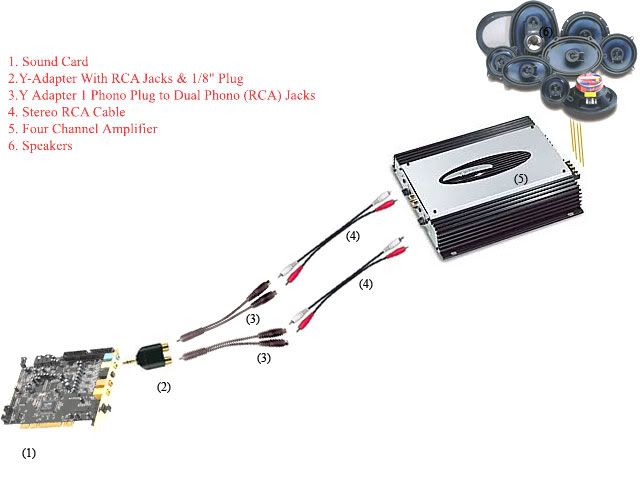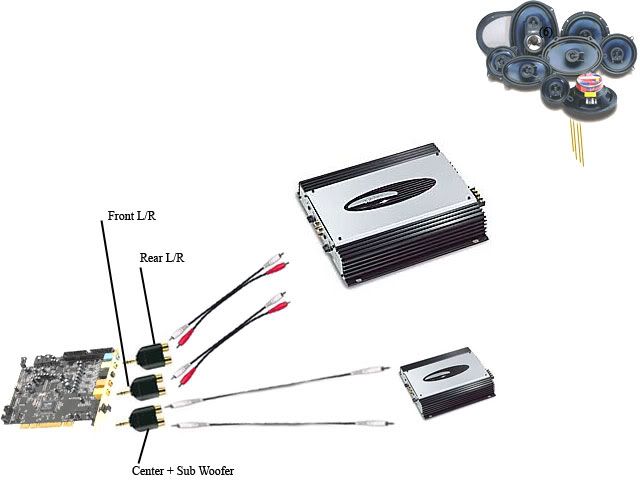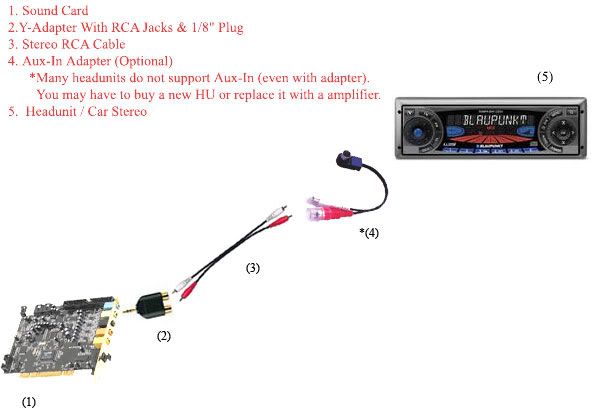 I didnít use the dedicated Sub output from my sound card, but my sound system sounds fine to me, but if your nutty about sound then DO IT!
Operating System:
Now that youíve got your hardware and sound figured out, what OS should you run? Well this is where it gets slightly complex, your two MAIN options are: Linux and Windows XP (I wouldnít recommend others as XP has less tendencies to BSOD!)
Iím not going to go into detail with Linux as I have no knowledge of Linux so Iím going to talk about Win XP.
There are three ways you can go about installing Win XP:
a) Win XP (normal installation)

Win XP (nlited)
c) Win XP (embedded)
A is the easiest one, this is the one Iím using, Iíve removed some things that I donít want to be loaded and did some tweaks here and there, works fine for me and Iím not very fussy so it will do for me.
Option B is using a program called nLite to remove unwanted windows components and slipstreaming it onto a CD before installing it onto your hard drive. This is a great option if you are using a very small HDD for your OS and a removable HDD for all your music and video.
Here is a link to read what others have done using nLite:
http://www.mp3car.co...ead.php?t=44961
The last option © is the most complicated and the hardest to get working, I think its a lot of trial and error, you can make EXTREMELY small installs of Win XP like less then 10 megs or something, but that will be only the shell and no GUI. Google for Win XPe and youíll find a lot of stuff on it.
Here is a link so you have a quick read of XPe
http://www.mp3car.com/vbulletin/showthread...p;highlight=XPe
There is also the option of using a CF card to put win XP on, which is supposed to make things faster:
http://www.mp3car.com/vbulletin/showthread...p;highlight=XPe
Well thatís the basics of OS on to software:
Alright nigga! I got me OS gimme some tunes!!!!
Now, since you are going to be using the pc in the car and most likely a touch screen, you need the program to have big buttons, have all the functions you need at your finger tips, trust me, win amp is not a viable option!
So what are these magical ďit can do everythingĒ programs?
Well, they are called Ďfront endsí there are a few of them around. Personally I use one called Frodoplayer.
Here is the mp3car list of front ends with forum support:
http://www.mp3car.co...isplay.php?f=60
its basically going to be try em all if your not sure which one you want, they all offer pretty much the same thing as each other. They just do things differently or better or do something the other doesnít!
When I get around to it Iím going to designing my own skin for frodoplayer, another perk of having a carpc, you can customize your GUI to your liking and NO ONE else will have the same interface! Well, unless you let other people download it.
Thatís pretty much it! The basic run down of what you need and what a car pc is capable of.
Some people were worried about using a hard drive in a mobile environment if you looked at my install photoís youíd see where my computer sits, right in front of the sub box! I have yet to have any issues, I corner hard, go over bumpy train tracks and havenít heard a skip or freeze yet. Hard drives are so cheap that Iím dying for mine to cark it so I can get a bigger one. Iím currently using my old 40gb Seagate which is about 4-5 years old, and its still going.
So HA! HA! To them nay sayers!
Personally I think once the market picks up things will be easier to get. Its abit more work then getting an AV system like an alpine system installed into your car, but trust me the work is worth the effort, when you see windows running in your car and the amount of stuff you can do you will know its money well spent!
I remember talking to my mate on MSN in my car, first thing i said was "I'M on MSN, in my car, i bet you can't do that!!!"


If i have missed anything i will add them later on with notice of update or you got some questions, feel free to pm me or post the q!

Next Update: Setting up multiple screens. (cloned or spanned. you could be watching music vids while you drive and the other person could be playing a game or surfing the net!)
GBear.